Refillable Hand Soap Dispenser Pacs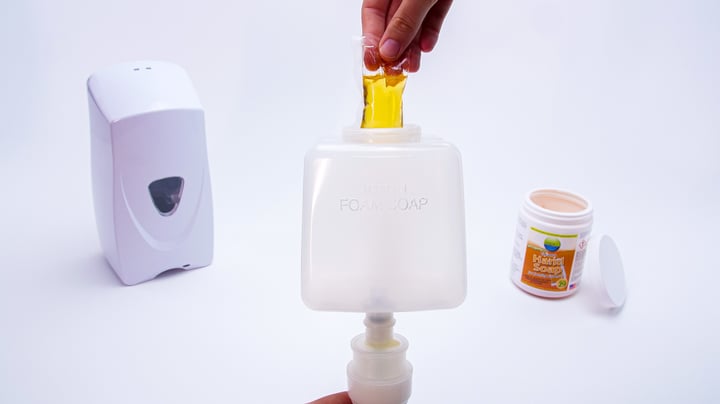 Are You Tired of Throwing Used Soap Cartridges into Landfills?
Buying and using bulk hand soap the old way means throwing away an enormous amount of plastic packaging and containers in the process. Each time you discard a single-use plastic soap bag or cartridge, that waste might end up in a landfill, where it won't break down for hundreds of years.
We understand that large retailers take their carbon footprints very seriously. You want to know that your supply chain is doing all it can to promote sustainable practices.
Over the last year alone, ChemPacs technology has prevented more than 7 million bottles, more than 1.3 million pounds of plastic waste from being discarded into landfills. Beyond just the massive cost savings associated with switching to dissolving hand soap ChemPacs, there is also the benefit of this delivery system being much friendlier to the environment.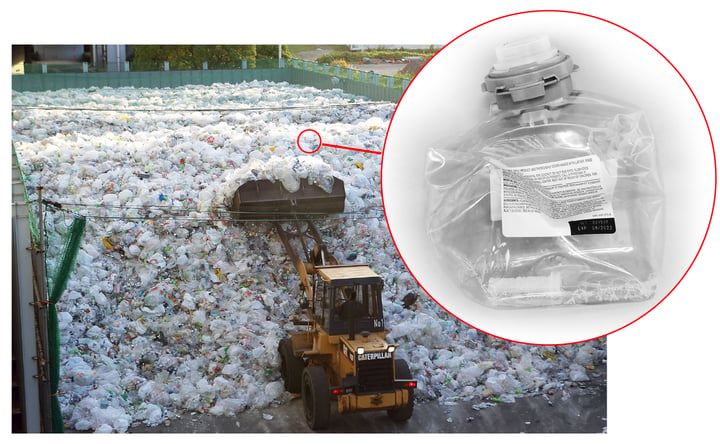 Scale of Environmental Savings

Twenty traditional single use soap cartridges weigh 60 pounds and represent four pounds of plastic waste (with residue) and almost two and a half pounds of cardboard waste. They will fill twenty dispensers.
120 traditional single use soap cartridges weigh a staggering 360 pounds and represent 24 pounds of plastic waste (with residue) and 14.4 pounds of cardboard waste. That's over 9,200 cubic inches of product.
Multiply that by all of the bathrooms that need hand soap dispensers, and the numbers (and implications) are truly enormous. One large retailer alone might have 10,000 bathrooms.
In contrast, twenty refillable hand soap pacs (one jar's worth) weigh one pound and take up 76 cubic inches of space. One hundred and twenty refillable hand soap pacs weigh 6 pounds.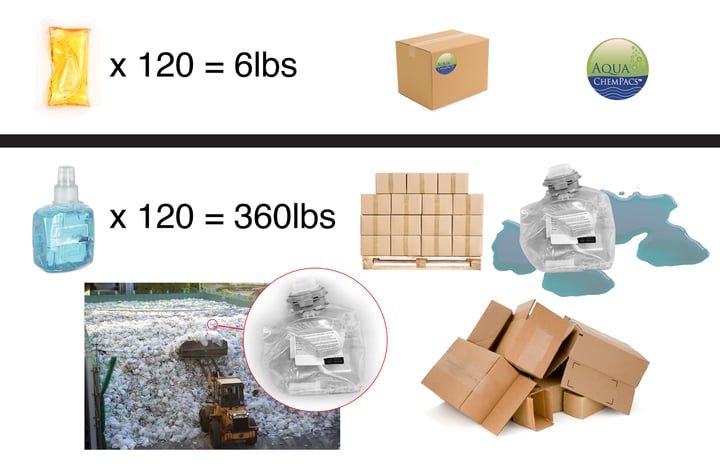 Scale of Shipping Savings
Are you constantly throwing away soap cartridges that aren't even empty?


Are you struggling to maintain a steady flow of effective cleaning products for your stores?
Many companies spend twice as much on freight costs to ship cleaning supplies than they pay for the cleaning supplies themselves. That's why refillable hand soap pacs are a game changer.

Which would you rather ship?
When your freight is 50 times less volume, the savings add up quickly.
The Product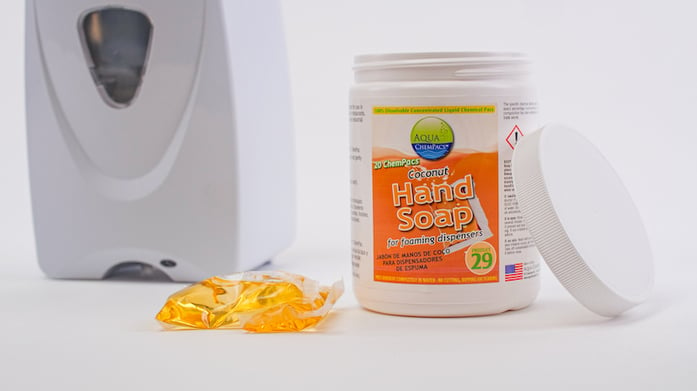 Our dissolvable 20-gram soap pacs are easy to use and replace. Rather than replacing a cartridge of 1,000mL to 1,500mL of premade hand soap, you simply drop in the 20-gram ChemPac, add water, close the lid, and shake. The pacs are highly concentrated, the soap is just as effective and premixed, and the technology might just change the way you think about buying hand soap and other cleaning chemicals.
How to Use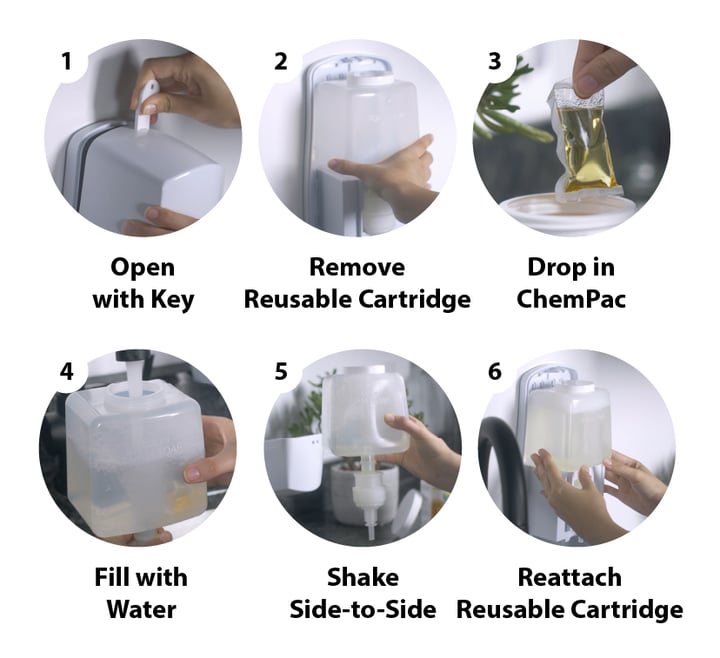 • Open dispenser using key.
• Remove reusable cartridge from dispenser.
• Remove cap from bottle and insert 1 ChemPac.
• Fill bottle with water, replace cap and and gently shake side-to-side to mix.
• Replace reusable cartridge into the dispenser.
Dispensers
Most soap dispenser machines come with inner components that don't allow for modifications for cartridges to be added. You may have to switch your machines, but it is probably worth it. With all of the savings on soap and freight, retailers typically recoup this cost in less than one year.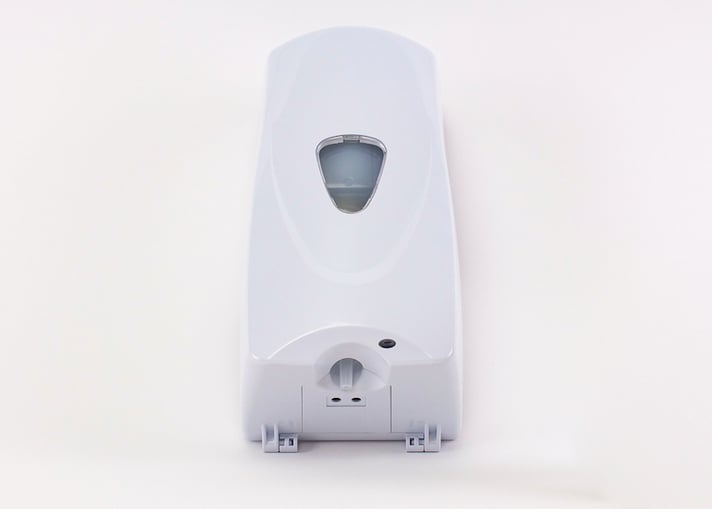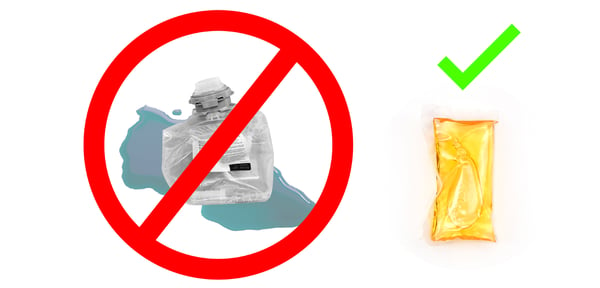 Each hand soap ChemPac means one less plastic bottle in a landfill
Disrupting Cleaning Supplies
If you are currently buying traditional soaps, cleaners, and disinfectants at high volume, we would love the opportunity to show you how much you could save. Now that hand washing practices are top mind, it's important to evaluate your buying and shipping practices. Aqua ChemPacs cleaning products are trusted by Fortune 500 retailers across the US and Canada. Our products are made in the USA, reduce plastic waste, promote sustainable cleaning, and they could save you a massive amount of money.

Next Steps: Samples

To request samples of our new 20-gram dissolvable soap dispenser pacs, or get a detailed estimated savings report, use the link to our contact form below. We'll send you a machine and samples of our hand soap pacs. A representative will reach out to you within one business day.
Our dissolvable cleaning pacs are not limited to soaps, we have a full line of cleaning products including disinfectants, glass cleaners and more. We make custom-tailored cleaning kits for our clients, so you have the confidence of knowing you are only buying exactly what you need.